Career
at the MONDI Resort Gastein
Whether housekeeping, animation, technical work or kitchen: In our MONDI Resort Gastein, a pure passion for hospitality is sought-after. During each season, we create unforgettable holidays together with our up to 110 colleagues, a part of whom have been working for us for their entire career. Relaxing and relishing moments. Genuine mountain experience. And exquisite culinary art. We always look for support for the MONDI Hotel Bellevue Gastein, the MONDI Alms Gastein, the MONDI Bellevue Lodge Gastein and the Jägerhäusl restaurant. Resourceful. And ideally for a long term.
Vacancies
at the MONDI Resort Gastein
No jobs available right now
Not the right one just now?
Even when no vacancies of your interest are open at the moment: We are always on the search of outstanding talents and creative minds. Do you feel addressed? And can you imagine working with us? We look forward to your unsolicited application!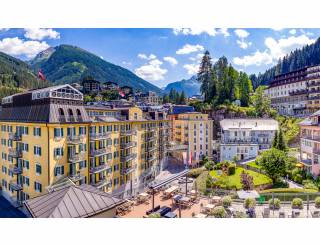 About us
In the exceptional MONDI Resort Gastein, we work in the middle of the Salzburg country. In the famous spa Bad Gastein. In the classy MONDI Hotel Bellevue Gastein close to the town centre. At the MONDI Alms Gastein in the middle of the ski resort. In a prime location at the Hohe Tauern National Park. Close to the Mozart city.
Our versatile resort facility with 260 accommodation units and three restaurants is managed by Kunibert Lengger. With great experience, enthusiasm and love for their work, they leads the highly motivated team counting up to 110 people. The objective is to inspire families, as well as active holiday makers and pleasure-seekers. And to find the best from every colleague.
Our Benefits
What we offer to our colleagues
We rely on longstanding collaboration. And we know how to appreciate the commitment of every individual team member. As an inspiring employer, we offer:
Exciting tasks | richly varied, self-dependent work descriptions in the resort
A very good working climate
Attractive compensation (14 salaries | year)
25 vacation days that do all of us good
Many whole-year positions
Flexible, reliable working time
Modern equipment for all types of work
Accommodation with WLAN for fair prices
Free beverages | including board where required
Additional amenities such as largely discounted holiday opportunities
Free parking places
A strong togetherness
Interesting professional development opportunities
Advancement opportunities within MONDI Hotels & Resorts
Our Team
With more than 110 colleagues, we strive to create the best times for our guests at the MONDI Resort Gastein. Whether trainee or newcomer, specialist or hotel director: With us, everybody sticks together and and gives their best. To inspire our guests.
We are happy to introduce ourselves:
Anna Bauer
Reception
from 2017 at MONDI Hotel Bellevue Gastein
After my compulsory school years, it was clear to me that I wished to follow apprenticeship in hospitality. As a genuine citizen of Gastein, my first choice of establishment was quickly determined: the MONDI Hotel Bellevue. And it worked out.
For three years, the period of my apprenticeship, I was picking up all the important skills for an occupational profile of hotel and hospitality assistant, and also lived examples of a good working climate.
As I am quite communicative, I highly enjoy – besides my administrative tasks in the office – the interaction with our guests. As we have many longstanding regular guests, working at this place has a quite homely feel.
In the meantime, I am responsible for various activities in both front and back office. My training in the Bellevue hotel showed me very clearly that hospitality entails many diverse and beautiful, as well as exciting moments.
My career is naturally just only beginning, but I somehow feel that here at the MONDI Hotel Bellevue Gastein, I can obtain the best possible know-how and an optimum support. Therefore there are no obstacles for my upcoming seasons in Gastein.
This also allows me to fully live and enjoy the attachment to my home town Bad Gastein both in summer and in winter with most diverse activities such as alpine tours, ski tours, downhill skiing and, in particular, time with my family and my friends.
Christina Mair
Governess
from 2012 at MONDI Hotel Bellevue Gastein
The passion for gastronomy was already laid into my cradle. As my grandparents had always been self-reliant, I have grown up as a typical tavern child at the regulars' table among Kaiserschmarren pancakes and roast pork.
After my 9th school grade, I was very clear that my wish was working in tourism. In 2012, I started my apprenticeship as hotel and gastronomy assistant at the MONDI Hotel Bellevue Gastein. First of all, I had to get used to the size of this establishment. During my initial week, I got completely lost not just once, and that is why I understand only too well when guests ask me the way.
Following positions in services, kitchen and at the reception desk, I have successfully completed my training in 2015. What I have always liked most was working with our MONDI members. As our system is hardly comparable with any other, I was able to acquire an extensive knowledge of worldwide exchange programmes.
In 2016, I wanted to gain international experience and went to America for two years. I was very happy to be able to directly return to the MONDI team when coming back in 2018.
In November 2020, an opportunity emerged to take over the position of the governess. I have gladly accepted and will do my best to cope with this challenge.
Daniel Ciocanea
Sous-chef in the Jägerhäusl restaurant
from 2017 at MONDI Resort Gastein
Having successfully completed my studies, I was eager to cope with a new challenge. So I came to the MONDI Resort Gastein in 2017.
I started as junior cook in the Bellevue Alm, where I have, together with two colleagues, handled the everyday kitchen life. Both of them taught me a lot, for which I am very grateful.
In my second week, I was allowed to show to Nick, the kitchen chef, what I had learnt. A sous chef had to go for a travel and I was given the task to manage to kitchen for a couple of days. A great experience that made me advance further.
A couple of months later, I saw for the first time, how unbelievable the Bellevue Alm is in winter season. I met a lot of people and had an opportunity to pick up many skills from them.
In summer, I was needed in the Bellevue hotel. In that time, a remarkable sous-chef was active there, being exceptionally creative and passionate. I learned so much from him that, after his departure, I could advance to the position of junior sous-chef.
My tasks included overall preparations for the buffet and the Zeitgeist à la carte restaurant. It was a great time, during which I could be extremely creative and discover how to appreciate haute cuisine.
Then I took a break in order to visit my family at my home in Romania. When back in Austria, I entered a position in St. Anton am Arlberg.
Why I have not stayed there? Well, I did not like working with finished products. Quite fast, I resigned, contacted Nick and on the very next day, I could start in the Jägerhäusl restaurant within the MONDI Resort Gastein.
Working under the master chef Daniel is a great fun. I always continue learning, being able to live up to my creativity and bring in my own ideas. Today, I am active as sous-chef, working afresh every day, with an immense enjoyment.
Olivera Langreiter
Breakfast manager and trainer
from 1998 at MONDI Hotel Bellevue Gastein
In 1998, I started my professional training as hotel and hospitality assistant at the former Metro Hotel Bellevue, and later I completed it successfully.
During that time, I had an opportunity – thanks to the generous educational concept – to get some insight into all the realms of hotel life (housekeeping, kitchen, services and reception desk).
After my training, my curiosity drew me to other gastronomy establishments, where I was able to gain some more experience.
In 2015, I came back to my roots to the present-day MONDI Hotel Bellevue Gastein, restarting, after my maternity leave, my working life as breakfast waitress.
Shortly afterwards, I assumed breakfast management. As I am happy to share my specialized knowledge, ongoing education to become apprentice trainer was arranged for me at MONDI, and I enjoy this a lot.
In my spare time, I like hiking together with my two daughters, my husband and our dog, always discovering new mountain sceneries. Besides that, jogging and cross-country skiing belong to my hobbies. I am a genuine family person, most liking to spend every free minute with my family. And I really have this kind of time, as my work at the MONDI Hotel Bellevue reconciles quite well with my family life.
Viktor Kiss
Assistant cook | MONDI Bellevue Alm Gastein
from 2017 at MONDI Resort Gastein
Already as a child, I liked trains. Most of my family members work with the railway. That is why I went to a (transportation) secondary school. Following its completion, I was studying railway engineering for two years and started my job with the Hungarian State Railways (MÁV). For 11 years, I was active there in most diverse areas. First as train driver.
In my first year at the technical school, I met my partner. Together, we decided in 2016 to move from Hungary to Austria in order to work there. After a variety of stations, it was very difficult for me at the beginning, as I had never been involved in hospitality or gastronomy.
Then, in 2017, I started to work as kitchen hand at the MONDI Resort Gastein. Though I had no experience, the team gave me a genuine chance. The variety of tasks in the kitchen was always interesting for me, and, thanks to my obstinacy, I quickly picked up all kinds of this work. Today, four years later, I am assistant cook on the MONDI Bellevue Alm and able to take over in any kitchen within the resort. I enjoy this very much!
In my spare time, I like to cook for my partner, trying out new recipes and ideas. I train with weights, being able to use the hotel in-house fitness area. Hiking, crafting, Xbox and Playstation belong to me in the same way as moving in open air. Mental and bodily fitness are of great importance to me.
Vacancies
In All MONDI Hotels & resorts