Info & inclusive services
The MONDI Hotel Gastein at a glance
Find here all the information regarding your stay in the MONDI Alms Gastein. For your time off in the mountains. In the Salzburg country. Whether arrival (by a well passable forest road in summer; by chairlift in winter), inclusive services, wellness or cuisine. And if anything worth of knowing is still missing, we will be happy to help you in person.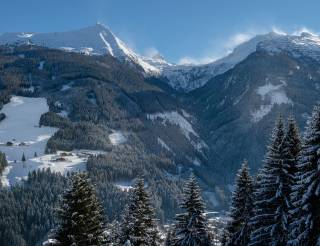 Your holiday
on the MONDI Alms
600 years old mountain huts with an extremely cosy flair
Summer terrace with a panorama view
Open fireplace in the restaurant
Situated directly on the Stubnerkogel ski slope
A perfect point of departure for hiking of any kind
Private chairlift and (night) bobsleigh track in winter
Relaxation biotope in summer
Broad selection of top quality meals and drinks
Ideal for mountain wedding parties and celebrations
With accommodation capacity for up to 60 persons
Pets allowed after consultation
Free of charge parking in summer directly by the alms. In winter, by the valley station of the private chairlift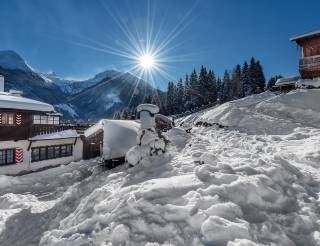 Inclusive services
Daily a generous cottage breakfast
Partly with balcony
Free WLAN
Appealing bathrobes and slippers in the room
Towels changed every three days
Daily cleaning
TV
Use of the indoor pool, saunas and fitness area at the MONDI Hotel Bellevue Gastein
Children's programme for children from 3 years at the MONDI Hotel Bellevue Gastein
Use of a wood-boarded sauna and biotope (in summer only) within the premises
Benefits and discounts based on the Gastein Card
Additionally at the MONDI Schiefe Alm Gastein
Balcony or terrace
Fully furnished kitchenette
Telephone, radio, TV and room safe
Local offers
(extra charge and reservation required)::
In summer:
Shuttle service
Archery parcours, bike rental in the hotel, cottage evenings with music, candlelight dinner on the entirely private "Spatzl" terrace
Lunch and dinner on open days
In winter:
Bike rental, ski rental and much more in the valley
Lunch and dinner
The Bellevue lift
Nostalgic ride in a one-seater
Where is that? At the MONDI Almen Gastein, your time-off starts with an unforgettable ride in the nostalgic one-seater chairlift, which was built in 1947 and put into operation in 1948. Experience slow movement from the first second. And float relaxed over 171 vertical meters in one of the last one-seater chair lifts in Austria through the Gastein mountains. The journey to your romantic hut accommodation takes a little over seven minutes. In the cozy guest lounges of the MONDI Bellevue Alm Gastein. Or for a brisk toboggan ride on the associated track. And if you like, you can of course make yourself comfortable in one of the red chairs for the descent.
Opening hours in winter:
10:30 a.m. - 4:00 p.m
5.30 p.m. – 00.00 a.m. (last ascent 11.00 p.m.) 
Lift prices (toboggan included):
€ 9 adults
€ 7 children (6-14.99 years)
Children up to 6.99 years free
PLEASE NOTE:
The toboggan run is only open when the snow conditions are appropriate.
House guests of the MONDI Almen Gastein use the chairlift for free. 3 rides with the rental toboggan per guest per day.
In summer the lift only runs during events and by prior arrangement (e.g. wedding party)

(c) Gasteinertal Tourismus GmbH, Manuel Marktl 
Dogs?
are absolutely welcome in our Mondi Hotel Bellevue Gastein
Some of our apartments are extra dog-friendly.
For a happy and carefree life of all our guests and employees, we only ask you for a mutual
Please register your dog, if possible, when reserving your room.
Please bring your own crockery, your own food, your own dog's bed and your own towels for proper care for your four-legged friend.
Please understand that dogs are not allowed to enter the wellness and dining areas.
Please make sure that your darling behaves cleanly and tidily.
Please understand that sofas, beds and chairs are intended exclusively for humans. The next guest will be grateful to you for this.
Please make sure that your dog does not disturb other guests with barking or naughty behaviour – also when you are in the restaurant or breakfast area and your animal companions are waiting in your room.
Please make sure that the nice ladies and gentlemen responsible for room cleaning have no reason to fear your furry companion – and vice versa. Maybe by means of a well timed walk.
Please do not let your animal friend run around the hotel alone and have him or her always on a leash within the premises.
Please use the sachets that are available for free at several places within the resort in order to have the "dog toilet" disposed of simply and properly.
Please use this opportunity to show that your dog is particularly well socialized and accustomed to the company of other people and animals.
Please understand that any damage or special cleaning needs will be added to your lodging bill of 12.00 euros per day/dog.
Cancellation terms
Please consult, before your arrival, the currently applicable provisions (e.g. vaccination, test and/or recovery evidence), for instance at: https://reopen.europa.eu
from 08.12.2022 (Excluding Christmas | New Year) :
up to 7 days before arrival - free of charge (there are 7 days between cancellation and the day of arrival)
from 7 to 1 days before arrival - 50% of booked services
from the day of arrival - 100% of booked services
23.12.2022 - 08.01.2023:
up to 14 days before arrival free of charge (there are 14 days between cancellation and the day of arrival)
from 14 to 7 days before arrival - 50% of booked services (there are maximum 13 and minimum 7 days between cancellation and the day of arrival)
from 7 to 1 days before arrival - 80% of booked services
from the day of arrival - 100% of booked services
In any case, we recommend travel cancellation insurance.
Arrival to the Mondi Alms Gastein
In summer, you will reach us along a compacted mountain road, the Bellevue Alm Weg. In winter, access is provided by our chairlift. During your stay, you can park your car free of charge on our parking space by the MONDI Bellevue Lodge Gastein. Please note the chairlift operating times 10:30 through 16:00 and 17:30 through 23:30. In summer, a free shuttle service is available, ready to pick you up at the railway station or at a parkplace or at the MONDI Hotel Bellevue Gastein and the Jägerhäusl inn. In winter, please consider using snow chains as precaution.